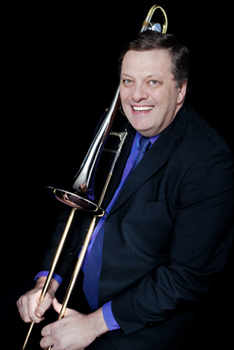 Ian Bateman
Ian Bateman has a long 42 year career in British jazz music. He spent most of that time with traditional jazz legends such as Terry Lightfoot and Acker Bilk and was a regular contributor to the bands of Kenny Ball and Humphrey Lyttelton. Indeed, Ian is better known these days for his tribute concerts to Kenny Ball and the great Louis Armstrong. This tribute to Billie Holiday is Ian's biggest project yet and by all indications, will be his most successful. There has been a trend in recent years to re-create iconic jazz albums in a live setting, with occasions such as the famous 1938 Carnegie Hall concert by the Jazz Repertory Company being a prime example. Ian has more projects in the pipeline that follow this vein.
Apart from his own shows, Ian is in demand as a session trombonist and often is seen with bands such as Echoes of Ellington, The Pasadena Roof Orchestra, The Electric Ladyland Big Band, The Bryan Ferry Jazz Orchestra and many others, as well as frequent guest appearances up and down the jazz club circuits of Europe.
Ian admits to not really being a follower of Billie Holiday until recent years when he acquired one of the many compilation CD's to play in his car! This CD didn't include any ordinary 'Joe Public's' list of Billie's songs like 'That Old Devil Called Love' and suchlike, it was all the great recordings in the 1930s with the likes of Teddy Wilson, Lester Young and Buck Clayton. Ian soon realised that none of this work had been covered authentically and despite this meaning no trombone (!), he set to work transcribing them and preparing them to be performed again. With 26 titles ready to go, his colleague, bassist Bill Coleman, suggested Ian should listen to 'Lady In Satin', which he declared to be her greatest recording ever. One listen and Ian was hooked. That was back in 2014 and 5 years on, Ian has transcribed that album (he reckons he must have listened to it 200 times!) and here we are today, ready to bring it back to life in a live situation in a wondrous show of Billie's 1938 jazz recordings and the performance of 'Lady In Satin'.